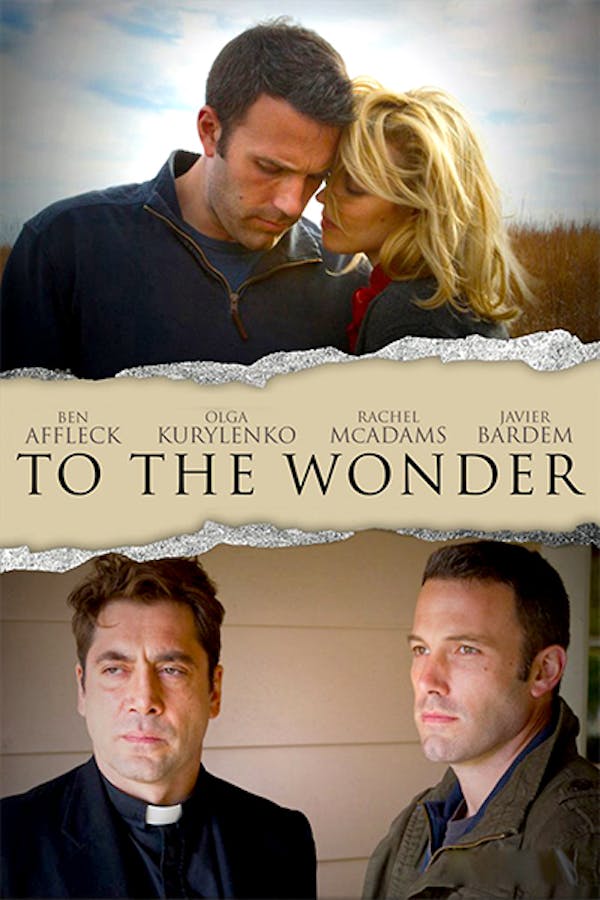 To The Wonder
Directed by Terrence Malick
Directed by the visionary Terrence Malick (Tree of Life), To The Wonder centers on Neil (Ben Affleck), a man who is torn between two loves: Marina (Olga Kurylenko), the European woman who comes to the United States to be with him, and Jane (Rachel McAdams), the old flame he reconnects with from his hometown. Neil's doubts about his life and loves are reflected in the crisis of faith experienced by Father Quintana (Javier Bardem), who only sees pain and the loss of hope in the world. In "To the Wonder", Malick explores how love and its many phases and seasons "passion, sympathy, obligation, sorrow, indecision" can transform, destroy, and reinvent lives.
An inspirational and visually stunning romantic drama from director Terrence Malick. A man (Ben Affleck) reconnects with a childhood sweetheart (Rachel McAdams) after problems arise in his relationship with the Frenchwoman (Olga Kurylenko) he brought home to Oklahoma with him.
Cast: Ben Affleck, Olga Kurylenko, Rachel McAdams, Javier Bardem
Member Reviews
I loved this movie. Relateable and heartbreaking.
Very spiritual movie, it discusses our exercise of free-will as mankind, the life changing decisions we make for love. Establishes the mysteries of God and our seeking him with perseverance through doubt while remaining in Faith. We heed for sings of him knowing He is all around us and we seek his counsel of love with the hope to someday being in unity with our Source of life and reflecting his image in righteousness.
Completely boring.... total waste of time. stopped halfway thru.