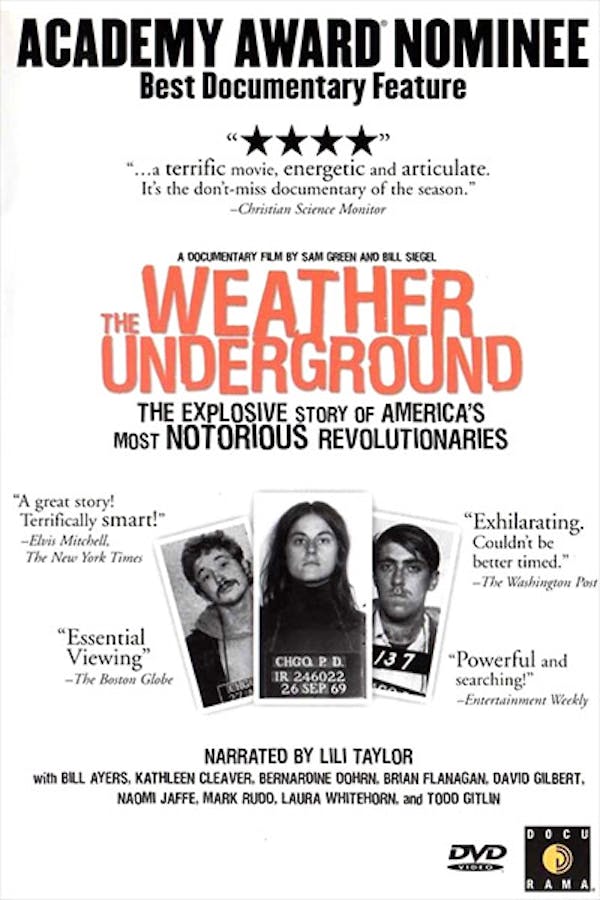 The Weather Underground
Directed by Sam Green
Over forty years ago a group of young American radicals called The Weathermen announced their intention to overthrow the U.S. government. Fueled by outrage over the Vietnam War and racism in America, they went underground during the 1970's, bombing targets across the country that they felt symbolized "the real violence" that the U.S. government and capitalist power were wreaking throughout the world.
This powerful Academy Award-nominated documentary traces the rise and fall of a notorious 1970's radical group who declared war on the U.S. government.
Cast:
Member Reviews
White power & white privilege at its best; while the members of the black panthers r killed like dogs, jailed & killed like dogs; the members of weather underdog who terrorized USA lived to talk about it, some didn't even go to jail. It's like the heroine when it was & still devastating the black & brown communities was treat as a shame on these animals who r killing them selves, but when it hit white communities it became a national tragedy & our white kids need serious help.
These facts obscure the real violence that was taking place by the police against the blacks (especially against the Black Panther Party). These Weathermen are elitist and were playing at being revolutionaries
excellent_they are incredibly heroic_and the evil of the US government at the time was intense and non-stopping
i keep learning from this , sometimes completely different things. never tire of it. does a great job of digging into this corner of history
Within the context of the social and political climate in the USA today,this film becomes incredibly thought provoking.