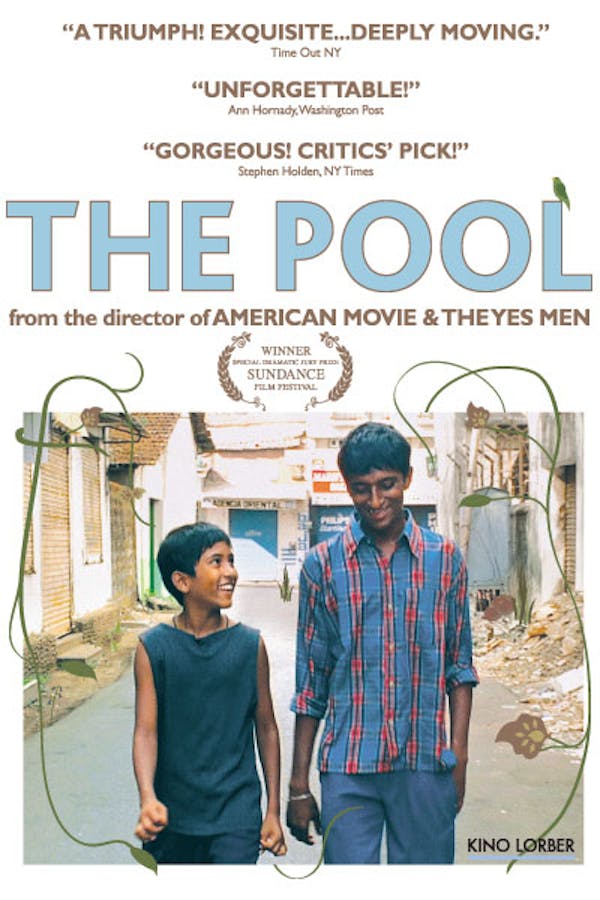 The Pool
Directed by Chris Smith
Documentarian Chris Smith's (AMERICAN MOVIE, THE YES MEN) foray into narrative storytelling is the India-set Hindi-spoken THE POOL, following Venkatesh, a young janitor. He sees from his perch in a mango tree a luxuriant garden and shimmering pool hidden behind a wall. Not content to simply dream about a different life, Venkatesh is inquisitive about the home's inhabitants — indeed, about the world around him — and his curiosity changes the shape of his future. Filmed with non-professional actors, in a language he didn't speak, filmmaker Chris Smith developed an on the fly style for the film – directing through a translator, editing the film together in real time and developing new scenes to compliment what was organically developing daily. The spontaneity and energy shows on-screen in actors, atmosphere and style. The film is a treat.
A hotel worker in India sees a luxuriant garden and shimmering pool from his perch in a mango tree. The hotel worker is inquisitive about the home's inhabitants and his curiosity changes the shape of his future. Directed by Chris Smith.
Cast: Nana Patekar, Venkatesh Chavan, Jhangir Badshah
Member Reviews
I just couldn't get there on this one. The characters seemed to be speaking their lines into space even when right next to each other and there was never a sense that any of them had or developed any real connection with each other. The only redeeming features to me where the location (Goa, India), and the depiction of mundane daily activities that often are glossed over in the media.
I was slowly drawn into the narrative and the characters. The development of the story was unexpected, and the ending both surprising and yet inevitable. The story centers around an open, inquisitive and bright young man and the development of his capacity for compassion. He is at a stage of life where his decisions determine the nature of his character and the course of his future. Really a beautiful story, and it is touching to watch the nobility of his spirit emerge. Incidentally, aside from sanitation issues, watching this film left me longing to spend time in India. Highly recommended!
A beautiful movie on human compassion and sacrifices. It is definitely impressive that Chris Smith directed the movie without any knowledge of Hindi, the language that he was shooting in.
4.5_was awkward at the start for me anyway_but i got into all of the characters & the story_so it was all pretty great _yeah a treat and his young friend is great_so it all felt wonderful
enjoyed it as a getaway mood piece, and also the sense of place and unpretentious.