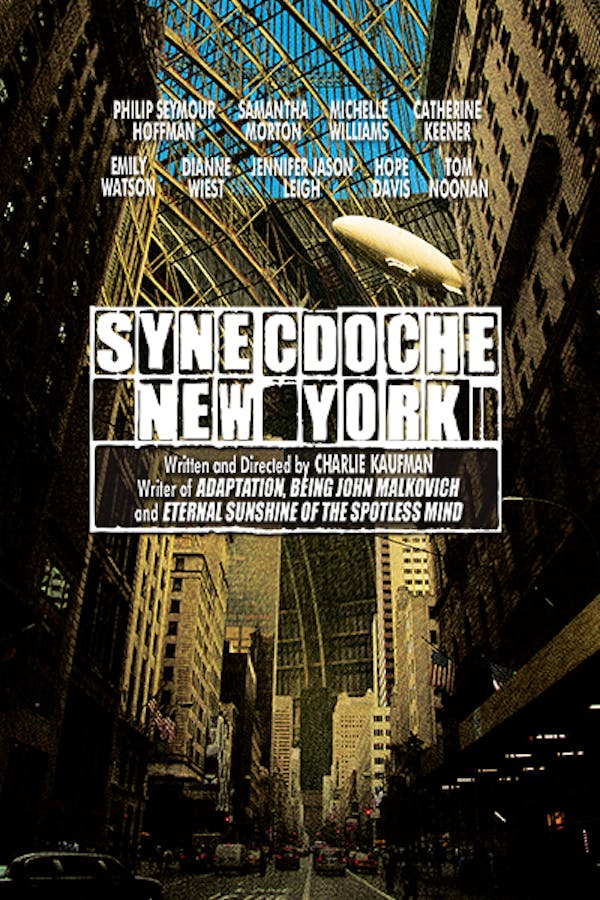 Synecdoche, New York
Directed by Charlie Kaufman
From Charlie Kaufman, the writer of ADAPTATION, BEING JOHN MALKOVICH and ETERNAL SUNSHINE OF THE SPOTLESS MIND. Theater director Caden Cotard (Philip Seymour Hoffman) is mounting a new play. His life catering to suburban blue-hairs at the local regional theater in Schenectady, New York is looking bleak. His wife Adele (Catherine Keener) has left him to pursue her painting in Berlin, taking their young daughter Olive with her. Worried about the transience of his life, he leaves his home behind. He gathers an ensemble cast into a warehouse in New York City, hoping to create a work of brutal honesty. He directs them in a celebration of the mundane, instructing each to live out their constructed lives in a growing mockup of the city outside. The years rapidly fold into each other, and Caden buries himself deeper into his masterpiece, but the textured tangle of real and theatrical relationships blurs the line between the world of the play and that of Caden's town deteriorating reality.
A theater director is mounting a new play. His wife has left him, taking their young daughter with her. He leaves his home behind and gathers an ensemble cast into a warehouse in NYC, hoping to create a theatrical masterpiece of brutal honesty.
Cast: Philip Seymour Hoffman, Samantha Morton, Michelle Williams, Catherine Keener, Emily Watson, Dianne Wiest, Jennifer Jason Leigh, Hope Davis, Tom Noonan
Member Reviews
Weird. Strange. Unique. Recommended to remember Philip Seymour Hoffman. One of a kind.
My personal favorite film ever made! Charlie Kaufman gives us a window into the mind of a tormented writer better than any other filmmaker. It's an impressive directorial debut that perfectly uses something I call "infinite content" where every viewing of the film will leave you with different thoughts than the previous viewing; instead of getting to understand what the film exactly means with multiple viewings, the film is almost a completely new work of art every time you watch it. Eraserhead is a great example, but this film is far grander in its cerebral beauty and depth while still keeping a strong and oppressive atmosphere constantly reminding the viewer of the themes, which are what this film is built around more than a narrative. You'll understand when you watch it, and you might come out of the film as a different person than when you went in.
great_love everything about it_amazing and wonderful_a beautiful odyssey_Hoffman is great the whole cast is_total magic