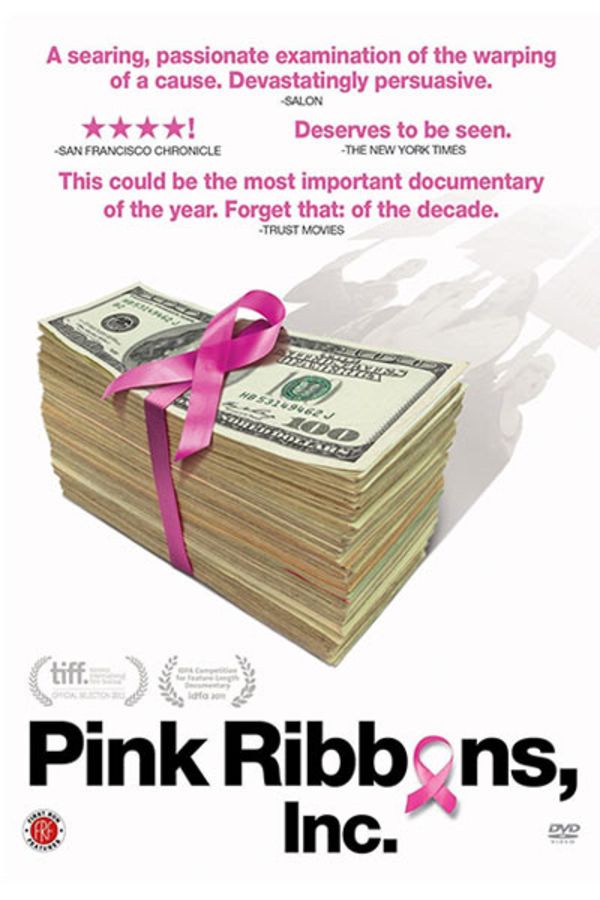 Pink Ribbons, Inc.
Directed by Léa Pool
The ubiquitous pink ribbons of breast cancer philanthropy and the marketing of brands and products associated with that philanthropy permeates our culture, providing assurance that we are engaged in a successful battle against the disease. But the campaign obscures the reality of breast cancer - more women are diagnosed with breast cancer every year, and face the same treatment options they did 40 years ago. In showing the real story of breast cancer and the lives of those who fight it, PINK RIBBONS INC. reveals the co-opting of what marketing experts have labeled a "dream cause."
This critical doc explores how the breast cancer fundraising movement's corporate connections mask the ugliness of the disease and hurt the cause.
Member Reviews
Since my initial posting I have taken a hard cold look at the Canadian Breast Cancer Foundation and its focus on research and the prevention of breast cancer. It is unlike the Susan G Komen Foundation or the Avon and Revlon walks for breast cancer. It may have a Pink Ribbon in its logo but the Canadian Breast Cancer Foundation goes far beyond that to support the necessary research to help bring an end to breast cancer. I will be proud to bring the Candle of Hope program to them knowing the money raised will be well spent. Charles Jackson
I have a program called Candle of Hope and I was originally going to try and raise $250,000 for the Canadian Breast Cancer Foundation of Western Canada by having 50,000 soy candles sold through a pharmacy chain in Western Canada at $20 each with $5 going to the Canadian Breast Cancer Foundation. I no longer feel comfortable doing this after watching this documentary. Thank you for opening my eyes, Charles Jackson
Eye opening and thought provoking. Will stay with you for a long time. A must watch.
Thank you. As someone who has had breast cancer, this movie confirms all my suspicions about the pink ribbon circus.
I remember seeing this years ago. I am so glad that Doc Club makes it a priority to carry this movie in its collection. It's an important documentary to watch & share. Pink-washing & pinkification need to end, but that can only happen if more people are made aware of the damage it does.