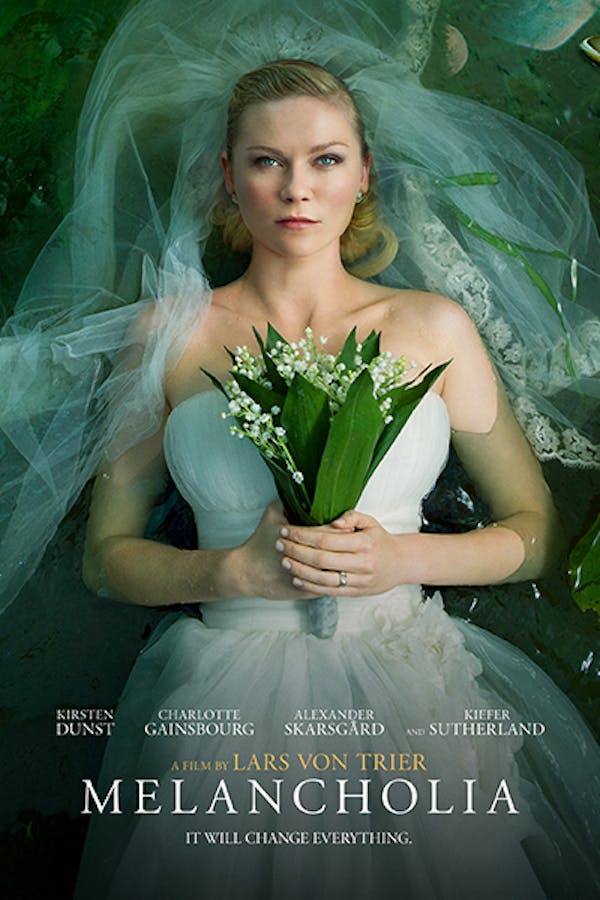 Melancholia
Directed by Lars von Trier
Justine (Kirsten Dunst) and Michael (Alexander Skarsgård) celebrate their marriage at a sumptuous party in the home of Justine's sister Claire (Charlotte Gainsbourg) and brother-in-law John (Kiefer Sutherland). Despite Claire's best efforts, the wedding is a fiasco, with family tensions mounting and relationships fraying. Meanwhile, a planet called Melancholia is heading directly towards Earth, threatening the very existence of humankind.
With doomsday approaching, as a planet hurtles toward a collision course with Earth, two sisters (Kirsten Dunst and Charlotte Gainsbourg) bring peace to their strained relationship. a spectacularly beautiful film about end of world ennui from auteur Lars Von Trier.
Cast: Kirsten Dunst, Charlotte Gainsbourg, Kiefer Sutherland, Alexander Skarsgård, John Hurt
Member Reviews
One senseless scene after another of Dunst's cleavage. She is a remarkable actress but von Triers missed the mark with this sterile film.
A finely layered film, well crafted by von Trier. The personality change of the lead character becomes obvious after the wedding guests have left as the feeling of impending doom takes over. The addition of horses in the story help to underscore this feeling. Fine performances from all, especially Dunst. I won't soon forget this film.
I had issues understanding what the CD character was saying. What was supposed to be her issue / condition. I think that may have helped me in understanding so much. But I couldn't stop watching...
Powerful and interesting exploration into existential problems and solutions associated with the human condition. great cinematography. Strong performances by the cast and in particular by Kirsten Dunst.