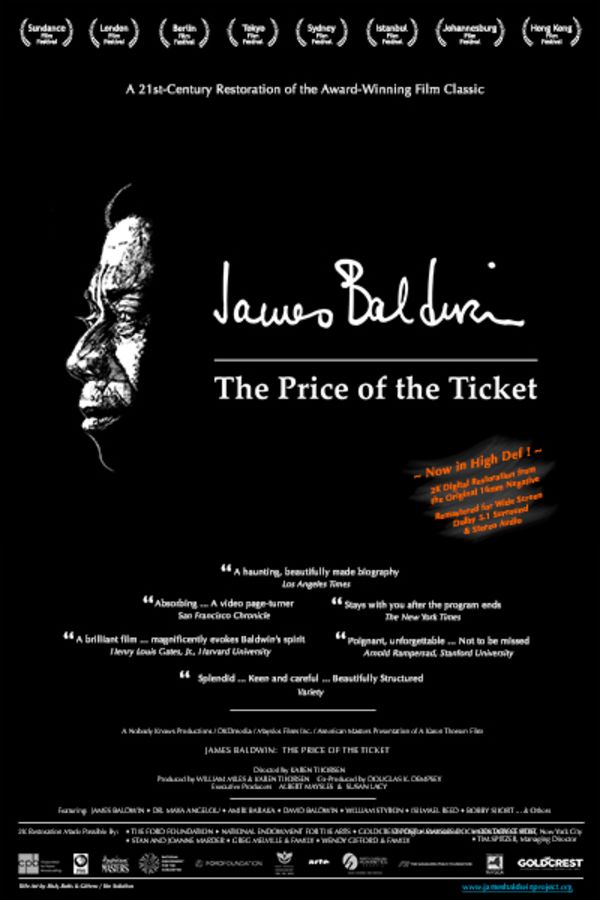 James Baldwin: The Price of the Ticket
Directed by Karen Thorsen
The definitive biography of the great American writer & activist - James Baldwin. An emotional portrait, a social critique, and a passionate plea for human equality, this film is a vérité feast. Without using narration, the film allows Baldwin to tell his own story: exploring what it means to be born black, impoverished, gay and gifted – in a world that has yet to understand that "all men are brothers."
An emotional portrait, a social critique, and a passionate plea for human equality, this film is a vérité feast, and the definitive biography of the great American writer & activist - James Baldwin.
Cast: James Baldwin, Dr. Maya Angelou, David Baldwin, Amiri Baraka, Alexa Birdsong, William Cole, Lucien Happersberger, Bernard Hassel, Yashar Kemal, David Leeming, James Briggs Murray, Cynthia Packard, Ishmael Reed, Bobby Short, William Styron
Member Reviews
An important documentary; a love note to this master of letters, James Baldwin.
I thank those who composed this love letter to James Baldwin, so that we can absorb his true Christian message. In the Bible we are taught that we are all brothers and that someday (soon) we all be resurrected in a new world to realize our loving natures. James Baldwin used his genius as a beacon to guide us to this hope. Thank you from my heart.
Utterly moving and important. You may think you know the history of the black / civil rights struggles in America, but we do not know it enought at all. Baldwin is at the heart. He is all heart and fiery hope and steadfast effort to bring us (all of us, but especially us white people) up, just a little.
We are living in the 21st century and we are still dealing with this racial problem in the United States! What kind of country is this when can't respect those that were here before us, those that did so much just by forcibly being taken from Africa and those that are still coming, wanting to be part of it all. I have been here for more than 40 years and I can't still believe we are dealing with this problem. It is cruel, so cruel!!
What an amazing film, very powerful and beautiful indeed.