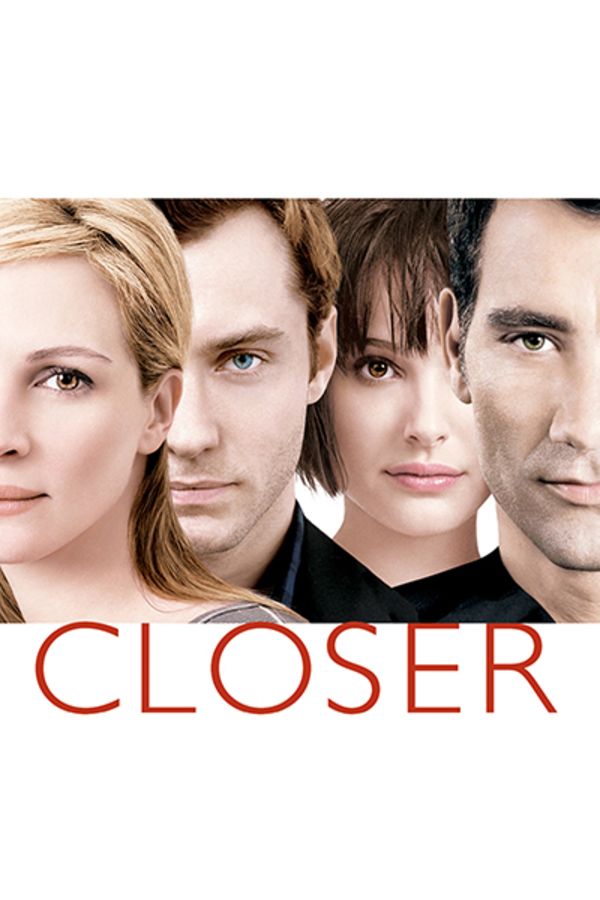 Closer
Directed by Mike Nichols
Alice (Natalie Portman), an American stripper who has moved to London, meets Dan (Jude Law) on the street. While looking at him, a taxi hits her. After taking her to the hospital, Dan begins dating Alice. A year later, Dan -- who has written a novel about Alice -- is bored. He flirts with photographer Anna (Julia Roberts). Pretending to be her in a chat room, he leads dermatologist Larry (Clive Owen) to an accidental meeting with Anna. As the years pass, both relationships disintegrate.
Two couples meet, cheat and deceive each other in this witty, romantic and very dangerous love story, masterfully adapted from the award-winning stage play.
Cast: Julia Roberts, Jude Law, Natalie Portman, Clive Owen
Member Reviews
This movie is fascinating in that each character approaches the same wants and desires of companionship that are intrinsic to everyone from a completely different angles. The characters in this story are well written, well acted, and very diverse with Clive Owen and Natalie Portman with over above average performances. Very adult themed - do you love me do you love me not - especially in terms of how we think of ourselves as individuals and as part of a couple.
The best movies are based on plays if you adore tight dialogue. Just watched this again to see if it held up after all these years... and the performances do as well as the storyline.