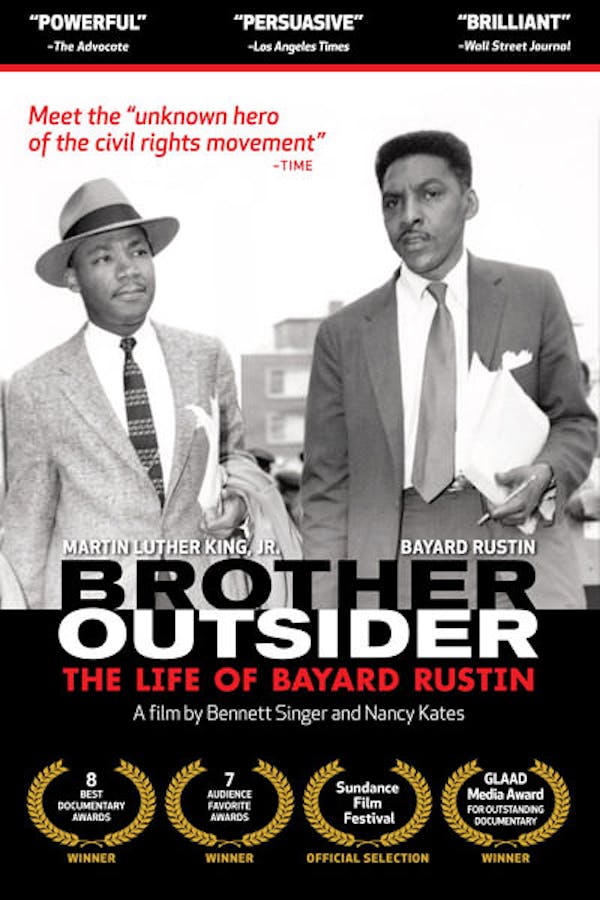 Brother Outsider
Directed by Nancy Kates, Bennett Singer
Five years in the making and the winner of more than 25 awards and honors, BROTHER OUTSIDER illuminates the life and work of Bayard Rustin, a visionary activist and strategist who has been called "the unknown hero" of the civil rights movement. A tireless crusader for social and economic justice, a disciple of Gandhi, a mentor to Martin Luther King Jr., and chief organizer of the 1963 March on Washington, Rustin dared to live as an openly gay man during the fiercely homophobic 1940's, 1950's and 1960's. BROTHER OUTSIDER reveals the price that Rustin paid for this openness. In 2013, Rustin received a posthumous Presidential Medal of Freedom from Barack Obama, who described Rustin as "an unyielding activist for civil rights, dignity, and equality for all [who] fought tirelessly for marginalized communities at home and abroad. As an openly gay African American, Mr. Rustin stood at the intersection of several of the fights for equal rights."
This eye-opening biography, which premiered at Sundance and won more than 25 awards, illuminates the public and private lives of Bayard Rustin, a visionary strategist and activist who has been called "the unknown hero" of the civil rights movement.
Cast:
Member Reviews
There is a problem, check back later :(
It is sad that I had never heard of Mr. Rustin until this documentary. I found it educational and interesting. This could/should be a part of American History in Schools.
Very informative. It didn't gloss over unpleasantness either.
Wonderful coverage of one aspect of the civil rights struggle of that period.
Such a beautiful look at someone at the pulpit of the civil rights movement. All of the while, he was outgoing about a struggle that had yet to face the mainstream thought of society: sexuality. Bayard Rustin wins.