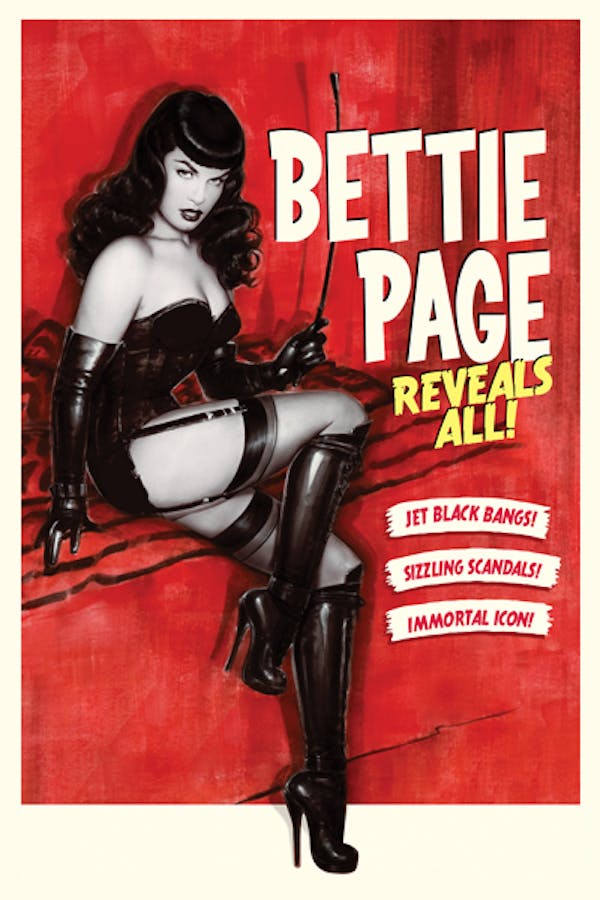 Bettie Page Reveals All
Directed by Mark Mori
Academy Award-nominated filmmaker Mark Mori's BETTIE PAGE REVEALS ALL is an intimate look at one of the world's most recognized sex symbols, told in her own words for the first time. In Mori's alluring documentary, the real Bettie Page emerges from the veil of myth and rumor via audio interviews taped a decade prior to her death in 2008. With earthy, razor sharp wit, Bettie tells her life story -- from humble beginnings as one of six children in an impoverished southern family, to high school salutatorian, to scandalous 50's pin-up model, to shocking retirement in 1957 at the peak of her modeling career. This keen insider's glimpse follows Bettie through broken marriages, born-again Christianity, and bouts of mental illness, before her ultimate return to the public eye in the early 90s, unaware of her cult status. BETTIE PAGE REVEALS ALL shows how Bettie's unabashed sexual expression and provocative poses set the stage for the sexual revolution and ushered in a modern era in fashion.
A celebration of an icon of fearless sexuality and beauty… Using the skeleton of an in depth audio interview with iconic pinup model Bettie Page, the film takes a detailed look at her life.
Cast: Bettie Page, Hugh M. Hefner, Olivia de Berardinis
Member Reviews
i loved it. very informative and its straight form bettie herself.
I'm having problems with the audio. This is the only streaming I'm having this type of problem with. Unaudiably low.
A beautiful, remarkably uninhibited woman who survived incest but was overwhelmed by serious mental health issues that eventually got the best of her. She was incarcerated at Patton State prison hospital for the criminally insane. She was released but never fully recovered. She brought joy to her many fans but did not appear to experience much joy in her own personal life. Thankfully, the filmmakers understood her fragile grasp on sanity and did not wish to exploit it. There but for the grace of God goes every pretty, young, troubled woman. May Bettie Rest In Peace.
She was beautiful and without basic modesty or inhibition. She was also an incest survivor, as well as mentally ill. When left untreated, mental illness always gets worse. And it did. Patton State Hospital is/was a penal institution for the criminally insane. Bettie's psychosis allowed her to exploit her sex appeal to bring joy to others. When she could no longer manage the psychosis, life turned tragic and remained that way until her death. She was unable to see or understand the way in which her life unraveled. The filmmakers clearly understood. This doc treats the material with sensitivity and intelligence.