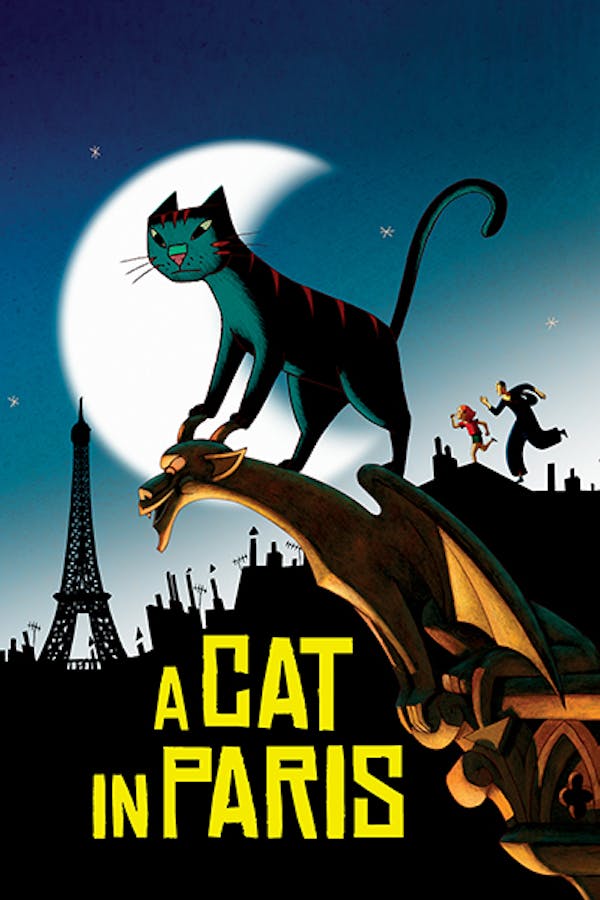 A Cat in Paris
Directed by Jean-Loup Felicioli, Alain Gagnol
This beautifully hand-drawn caper set in the shadow-drenched alleyways of Paris follows the incredible adventures of Dino, a precocious pet cat that leads a double life. By day he lives with Zoe, a little mute girl whose mother, Jeanne, is a detective in the Parisian police force. But at night he sneaks out the window to work with Nico - a slinky cat burglar with a big heart. The cat's two worlds collide when young Zoe decides to follow Dino on his nocturnal adventures – and falls into the hands of Victor Costa, a blustery gangster planning the theft of a rare statue. Now cat and cat burglar must team up to save Zoe, leading to a thrilling acrobatic finale on top of Notre Dame. A CAT IN PARIS is a warm and richly humorous love letter to classic noir films and the stylized wit of the PINK PANTHER cartoons – and Dino, the literal cat burglar, manages to steal the show with little more than a swish of the tail and quiet meow. Featuring the voices of Marcia Gay Harden and Anjelica Huston.
From the animation studio Folimage comes a beautifully hand-drawn caper set in the alleyways of Paris. Dino is a cat that leads a double life. By day he lives with a little girl named Zoe, but at night Dino works with Nico, a cat burglar.
Cast: Marcia Gay Harden, Anjelica Huston
Member Reviews
Wonderful animation though the plot is auite flimsy and i was disappointed by the American dub. Also very violent for a kids film, which might be worth noting.
Enchanting and entertaining. I thoroughly enjoyed it and could not stop watching.
such great drawing and animation, but the American and British accents made it hard to feel the sense of place of Paris and was quite disttracting.
Loved it! Got completely absorbed into the story, At times forgot it was an animation.
love the animation all of the characters_ Zoe Dino & Nico & Paris_so much fun jumping from roof to roof_took me awhile to get into it_but it's great fun