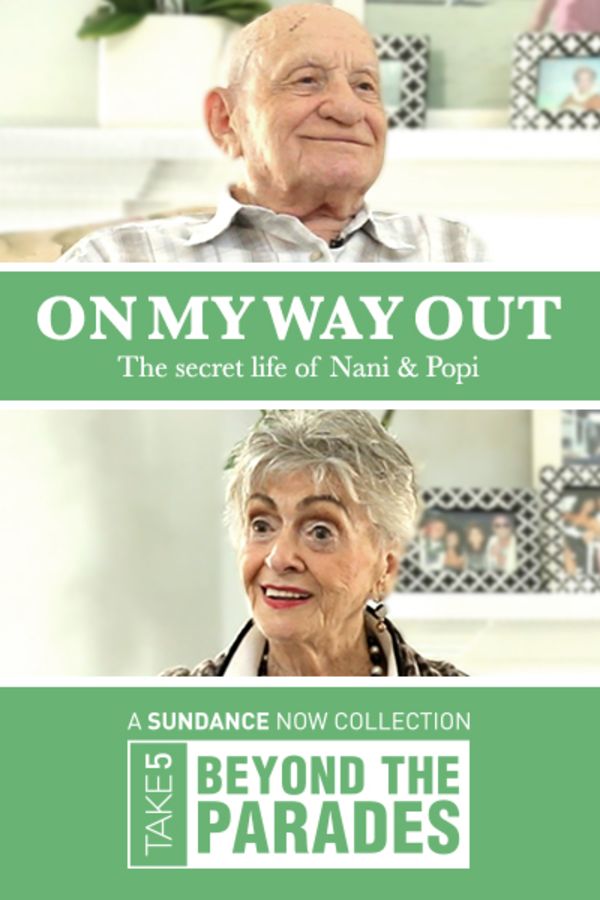 On My Way Out: The Secret Life of Nani and Popi
ON MY WAY OUT tells the love story of our grandparents, who after 60 years of what appeared to be the model marriage, revealed that they had been keeping a huge secret from our entire family. As Holocaust survivors who tragically lost family members, their lives have been filled with darkness. But somehow, their remarkable spirits allowed them to persevere and "succeed" in America. Ultimately, On My Way Out connects with the core values of what makes us human beings, the need and desire to love and be loved.
Member Reviews
Horrible. I have a friend who was also lied to this way.
This is a documentary about love and honesty, and less about dishonesty. The complicated, heart-breaking, beautiful moments that make up any valuable relationship are captured here and touched me deeply. I know nothing good comes from questioning other reviewers, but someone below stated that there was no need to confess to the family and even insinuated that Noni was somehow bought off with material hush money. To me, in addition to being seemingly cruel and inaccurate, it deeply undermines her anguish and the sacrifices made in order to keep her family and her marriage. Despite Popi's truth, she is unwavering in her love and commitment to him. The prospect of coming to the end of your life and knowing that your family doesn't know your truth is crushing to think about. And it was both of their truths, which gave enormous context and deeper understanding to both of their stories and, in turn, their entire family's understanding of their past. This was a gift. All I really wanted to say is that this is a lovely, loving documentary. The love between Noni and Popi, the love of their children and grandchildren, the love of the filmmakers for their family and the greater concept that it comes in many different forms.
This story was constructed beautifully and inspired a range of emotions and deep reflection about love, family dynamics, and the courage to live authentically. Noni and Papi's intimiate vulnerability, the filmmakers' ability to weave levity and to provoke tons of laughter (through tears), and thoughtful homages to their own family history and tradition throughout this heartfelt piece was simply awesome to experience. This is a film chalk-full of complex protagonists and humanity- I found myself rooting hard for everyone featured in On My Way Out. Must see!
It's clear that Roman and Ruth shared a special and different kind of life and love, and not one that many people are going to understand. But it was theirs and they chose it and made it work for them. I found myself wondering what the children and grandchildren thought they were accomplishing with this documentary
This was a dishonest documentary about a dishonest relationship. They were equally duplicitous, each for his/her own selfish reasons. He was self serving and she was a very willing accomplice. Many women stay married to men who do not love them, regardless of the gender of the lover. She was one of them. How many furs and jewels made it worth her while? There was no need to publicly confess his secret to the family in the final stages of their lives. It was a manipulative contrivance for the sake of the documentary. It did not make the doc more interesting. It made the dishonesty of the filmmaker more obvious. The old apple and tree metaphor is alive and well.