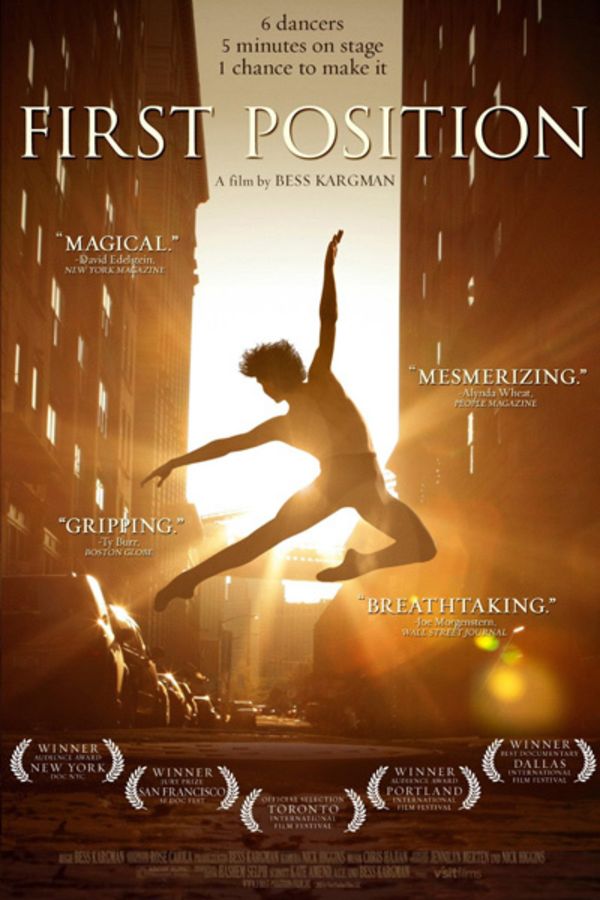 First Position
Directed by Bess Kargman
This award winning doc follows six extraordinary dancers as they prepare for the chance to enter the world of professional ballet, struggling through bloodied feet, near exhaustion and debilitating injuries, all while navigating the drama of adolescence.
Follows exceptionally talented young dancers from around the world as they vie for jobs and scholarships at a prestigious competition in New York.
Member Reviews
Incredible!-- their backgrounds, their stories and their determination.
Loved this film so much—watched it again recently. It's exceptionally well-done & balanced. Competition films/shows are challenging & this one went above & beyond. The best, maybe the only, film to present current day dance realistically.
Exceptional! What a wonderful perspective into the inside world of dancers with a focused goal to achieve! I loved seeing the diversity in each child - especially Aran, the young Navy son, and his friend from Israel, as well as Michaela's graceful journey from war-torn Sierra Leone! Not to mention, Juan from Columbia! This documentary seemed to seize positivity through negativity and I loved watching their experiences as a non-dancer. Very inspiring, excellent jobs done by all!
My brother was a professional dancer who lived for his art. I found myslef holding my breath at moments, feeling intense dedication these young people go through to attain their long worked for dreams.
Enjoyed very much this documentary. My cousin and brother were through things like that when they were kids at the ballet school.