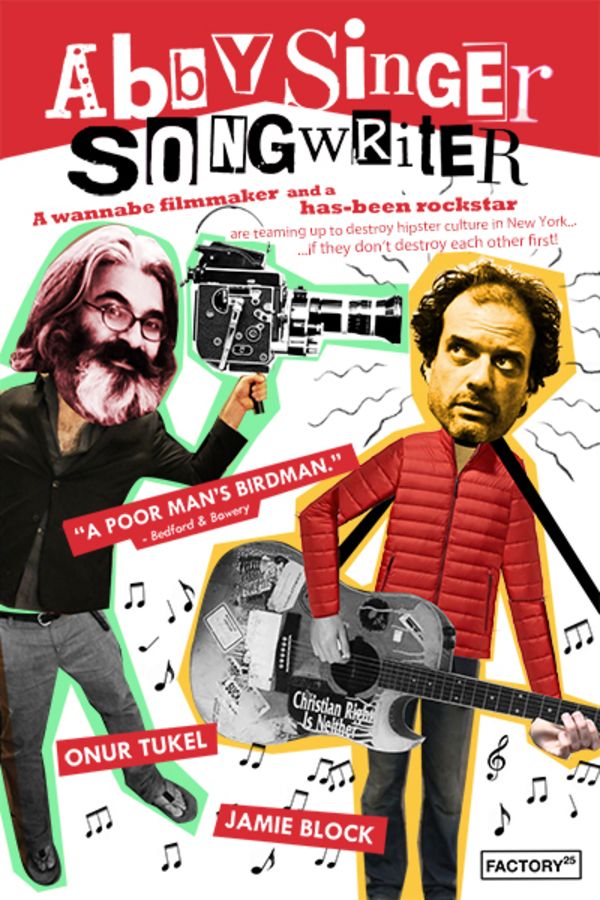 Abby Singer/Songwriter
Directed by Onur Tukel
Jamie Block, a divorced stockbroker has-been who was once an indie rock star signed to Capitol Records, meets Onur Tukel, a hapless middle-aged filmmaker who has just moved to Brooklyn. In this coming-of-middle-age story, Onur persuades Block to sink his money into a series of increasingly absurd music videos to promote his comeback as a musician. Desperate to impress his two beautiful, nonchalant teenaged daughters, Block casts them in the videos, which then play on multiple screens throughout this hallucinatory film. As tension mounts between director and musician, Block's bank account and grip on reality dwindle. ABBY SINGER/SONGWRITER blends documentary and narrative with the lost art of the music video to tell the story of a comeback, a crack-up, and a breakthrough. Onur Tukel directs this film which stars Tukel and Block as themselves.
A former indie rock star eyes his comeback by joining forces with a hapless filmmaker to produce a series of increasingly bizarre music videos. Directed by Onur Tukel and starring Tukel and Jamie Block as themselves.
Cast: Jamie Block, Onur Tukel, Stephen Gurewitz, Sophie Block, Johanna Block
Member Reviews
really quite funny & relatable but also lovably bizarre at times. i just looked on letterboxd, & only 6 people have logged watching this film. that's just not right. it's only 70 minutes long - i guarantee you've sat through much, much worse than this. even onur tukel, who i've occasionally found to be a bit off-putting, even obnoxious, in some of his own movies, is a completely lovable loser here. out of the 4 films of his that i've seen, i'd say this is his best.
This film is perfect realistic wackiness. The witty and weird dialogue keeps you laughing and surprised at the same time. The acting is professional, and the characters are relatable. Musicians in the audience are inspired to compose, writers to create, all while being entertained and intrigued. Both the characters and creators of the film remind us that art is never a waste of time.
Such a wild movie...I had no idea where this one was going which is so rare in film these days. What starts out as a ridiculously wacky & mad cap pairing of a Wall Street musician with an avant garde-ish indie filmmaker ends up becoming a surprising and soulful take on the struggle to keep creating, collaborating while taking care of the ones you love... how juggling life and art can sometimes make you lose your mind. Jamie Block's music is fantastic and the music videos--hilarious!